THE MORE, THE MERRIER
Thinking of organising an outing for your association or sports club? With Parc Aventure ®, you're guaranteed a day that will top all expectations.
No one is born an adventurer, but even novices soon get a taste for the high life! Whatever your group – children, teenagers or adults – you'll find that the adventure parks of Aigle, Sion or the Signal de Bougy promise an unforgettable excursion. With 11 participants or more, you can benefit from our special group rate.
Security
At Parc Aventure, children aged 4 to 7 follow courses designed and reserved for them. They are attached to a continuous safety cable; it is impossible for them to become detached. 
From the age of 8, adventurers are equipped with a so-called "intelligent" self-belay system. The two karabiners are interconnected, and once attached to the cable, can be opened only one at a time.
Accessible to all
The age, ability and fitness level of participants barely matters. With around a dozen courses in each park, high and low, easy and difficult, everyone will find challenges for their level. And while most will aim high, some may prefer to keep their feet firmly on the ground: no problem, they can follow the adventurers from the forest floor. "Visitor" entry is free.
You are also welcome to bring your own picnic. If you're peckish or thirsty, our cafes serve a range of snacks and refreshments. And we'd be happy to give you tips for restaurants nearby.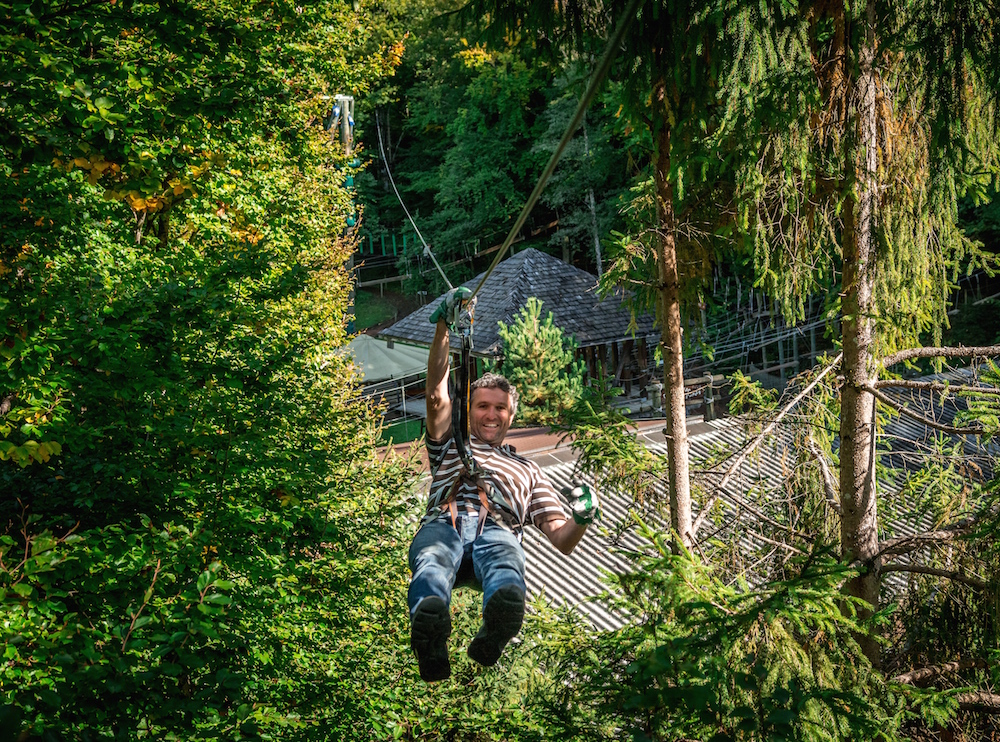 THE ADDED  OF PARC AVENTURE